Great Southern Bank Arena Information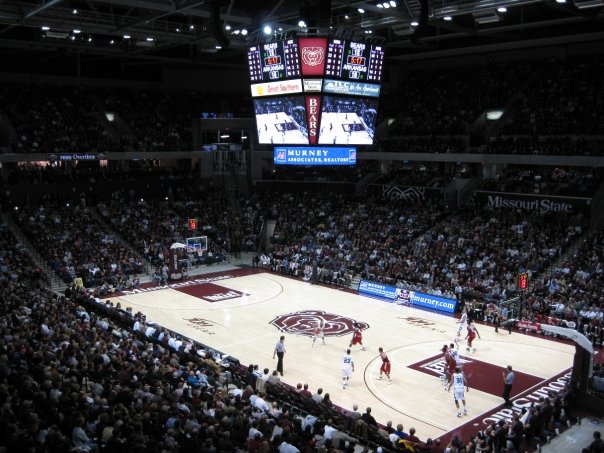 JQH Arena is a venue that specializes in basketball and special events. It can be found on the campus of Missouri State University and, since its opening in 2008, has served as the home for some of the biggest events to hit Missouri. It's also the home for the university's basketball teams, the Missouri State Bears and Missouri State Lady Bears.
The arena was built at a cost of $67 million and was designed with room for 11,000 fans at most events. This seating includes 9,637 chairback seats, 122 seats for guests requiring ADA-approved seating, 114 loge seats, and special seating reserved for students. The arena also has many men's and women's restroom options on top of all the other amenities that sports fans expect and demand from the best venues in the country.
You can even find a team store in the main lobby area that specializes in Missouri State apparel and merchandise.
Famous Non-Basketball Events
But don't think that JQH Arena is just known for their basketball. Over the short history of the venue, it's had several star-studded musical concerts. Here's a short list of some of the biggest events to play beneath the JQH Arena roof.
The Eagles – November 13, 2008

Casting Crowns – December 2, 2008 and October 4th, 2021

MercyMe – April 11, 2009 and February 20, 2011

Larry the Cable Guy – May 2, 2009

Jeff Dunham – March 13, 2010

Carrie Underwood – June 15, 2010 and October 28, 2012

Alan Jackson – September 23, 2010

Jason Aldean – October 29, 2010 and February 14, 2020

Trans-Siberian Orchestra – November 5, 2010

Rascal Flatts and Chris Young – March 5, 2011

Francesca Battistelli – April 2, 2011

Elton John – April 16, 2011

Celtic Woman – April 30, 2011

Michael Bublé – June 21, 2011

Miranda Lambert – October 21, 2011, and October 25, 2019

Third Day – November 10, 2011

Trans-Siberian Orchestra November 12, 2011

Lady Antebellum and Josh Kelley – December 10, 2011

MercyMe and Tenth Avenue North (Hawk Nelson) (Rend Collective Experiment) (Sidewalk Prophets) – February 16, 2012
More JQH Arena at Missouri State University information:
Ticket Policy:
Click here for our recommended ticket marketplaces ticket policies and information on authenticity guarantees.
Seating Map:
Click here for the JQH Arena at Missouri State University seating map and different seating sections.
Parking Information:
Click here to read about the JQH Arena parking arrangements.